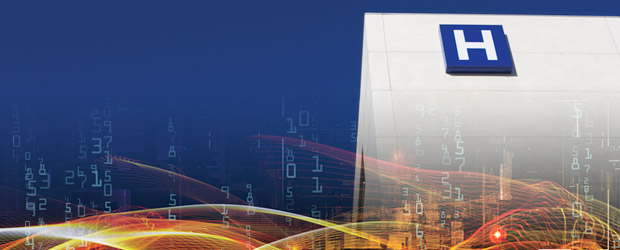 Companies that rely on data…rely on M2.
Transact. Transmit. Transform.
Healthcare IT organizations rely on data for making critical administrative decisions. M2 understands the complexities pervasive in this rapidly changing and ever evolving industry. That's why M2 solutions leverage the strength of EDI and e-commerce standards to deliver robust, real-time and batch solutions that securely connect, manage, transform, route and track healthcare transactions for some of the most highly respected healthcare organizations. healthENGIN was designed by these experts to encompass the proven capabilities of ENGIN© with the industry's first commercially available HIPAA-compliant all-payer solution.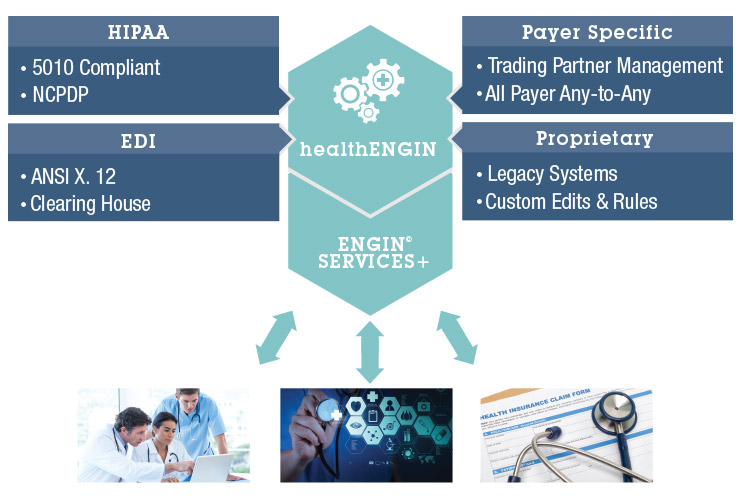 Manages and controls all communications interfaces
Authorizes and authenticates all users and trading partners
Performs all internal and external routing and distribution
Performs structure validations at any level of granularity
Translates data across a wide variety of formats and standards
Supports powerful execution of custom business rules and payer specific edits
Re-batches messages and transactions according to specific trading partner rules
Distributes and tracks all re-batched messages
Trading partner management facility for routing and distribution of all transaction types
Authentication is the first component of healthENGIN Trading Partner Management. Every trading partner has a unique profile that stores identifying information and the nature of their relationship with the payer or clearinghouse. Authentication challenges every user for their ID and password, and admits or rejects them based on the accuracy of the response.
Authorization. Once authentication has occurred, the trading partner profile is queried to determine additional detail about the trading partner. At this point in the process, the trading partner is authorized to perform certain functions within the system such as submit claims, receive acknowledgements, inquire about claim status, etc., all based on one or more "roles" the trading partner has been assigned in the set-up process. The trading partner's profile can be used to "authorize" not only batch file submissions, but also portal access privileges, real-time connections. A centralized web service makes this function available as a single point of role-based evaluation of a trading partners allowed access into/out of the payer environment.
Structure Validation. HIPAA compliance requires all transactions conform to a specific format and structure, and is certified at all 7-levels of WEDI Strategic National Implementation Process (SNIP). This allows healthENGIN to quickly invoke business rules to eliminate duplicate and ineligible claims, a common problem for payers. Rejections can be applied at the most granular levels including batch, file, claim, by provider, subscriber and patient.
Document Level Acceptance/Rejection. healthENGIN has the ability to accept or reject data at any level required. At any point in the processing flow, a document may be deemed as rejected. This allows a payer to accept valid data to be passed on to back-end systems for further processing, while rejecting the minimum data content as possible. This reduces the impact to the provider as they only have to resubmit corrected documents not whole files repeatedly.
Communications. Transaction Managers provide interfaces to systems, applications, files and databases. Over 20 supported protocols and transport methods.
Real Time/Batch. healthENGIN provides both real-time and batch capability. Allows organizations to handle both the submission of large batches of claims and other transactions in a periodic or scheduled manner while simultaneously supporting real-time eligibility, claim status and administrative transactions.
Routing. Once the structure of incoming transactions has been validated, healthENGIN applies business rules to determine the final destination (by claim, by eligibility, by referral, etc.) of each transaction within a batch and groups them accordingly for further processing. This capability is an integrated component and requires no custom coding to implement, is easily configured through a GUI and can accommodate the most complex logic for destination determination. Routing can be determined at any level of a file, a single file can potentially be split into numerous destinations.
Re-batch Module. Once the transactions have been fully routed, edited and translated, they are re-batched or grouped according to the final destination and staged for delivery. Re-batching can be based on multiple, complex criteria and distribution can occur immediately or on a scheduled basis according to predetermined delivery instructions
Reconciliation and Balancing. healthENGIN performs tracking, reconciliation and balancing of data sets and provides an integrated customer service capability via a web browser interface. Tracking and reporting on all data is accessible through the healthENGIN Provider Portal. Data is captured throughout the life cycle of the transaction, file and document. This information is stored for purposes of balancing and reconciliation between the provider and healthENGIN, as well as between healthENGIN and the internal systems. This data is also available to the payer for custom reports, security screening and statistical analysis.
Payer Specific Edits. Once grouped according to routing destination, payer specific edits are applied according to the parameters contained in the trading partner profile. healthENGIN comes with pre-built sets of payer specific edits that meet the HIPAA guidelines. Additional rules for new trading partners can be easily configured using intuitive GUI tools rather than high cost – high maintenance custom coding.
Translation. healthENGIN provides powerful, single pass translation. This translates into high throughput and enhanced productivity. Predefined mapping and translations for all HIPAA and CMS defined formats, as well as proprietary formats, speed the implementation process. The translator can perform any-to-any translations with no intermediate formatting required.
Robust Business Rule Processing. healthENGIN allows an unlimited number of workflows to be configured to meet a wide variety of business processes and corporate standards. A powerful business rule processing facility is accessible at any point in any workflow or across a group of workflows. Each group of business rules can execute any of the function types and can branch to additional business rules as well.
Duplicate Checking. healthENGIN validates incoming files against previously submitted files from a provider. This feature can prevent providers from accidentally or intentionally resubmitting a file for further processing.
Help Desk Tools. Browser based support tools allow help desk staff to quickly find data to trouble shoot a support call. Trading partner set up information, mailbox activity, file/document processing status and content is available. Document content, determined route destination, workflow and all other activity against the document can be viewed. Access is role-based so that only proper credentials can view and edit.
healthENGIN is ready for your most complex healthcare payer challenges and is the proven technology used by the nation's largest payers, currently processing 70% of Medicare Part A/B claims and 100% of national Durable Medical Equipment (DME) claims.
Our clients include:
Top 3 Medicare intermediary, servicing 30 million beneficiaries
Medicare/Medicaid Administrative Contractor (MAC) representing 1/3 of the Part A/B landscape, servicing 11 million beneficiaries and 500,000 providers
Medicare/Medicaid Administrative Contractor (MAC) servicing 13 million beneficiaries and processing 119 million claims annually
Architected to scale up or scale down, healthENGIN addresses all tiers of the health payer market, from private commercial to government sponsored. healthENGIN is flexible and affordable to plans of all sizes, with no per-claim or transaction charge.
New channels such as Internet of Things (IoT), mobile and demand personalization are within reach with healthENGIN. User access to critical data for provisioning, customer support and trading partner management is simplified with healthENGIN's Provider Portal.